Lab News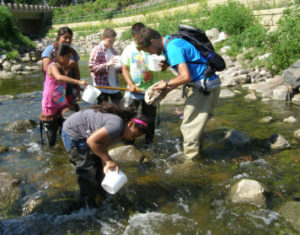 Our lab is very active in research and outreach. Below is a list of happenings from lab members, including recently published papers, presentations of research given at local, state, and national meetings, and outreach conducted in and around Des Moines. Please contact Dr. Levi for more information on any of the Lab News items. And please visit our Photo Album page for pictures of many of these news items!
---
2018
February 12: Peter had the opportunity to meet with Martin O'Malley, former governor of Maryland, and provide an "Iowa response" to his presentation on water quality efforts in the Chesapeake Bay.
January: Peter joined a small group of Drake faculty and students in Uganda where we have on-going collaborations with a regional health center ~2 hours outside of Kampala. In addition to collecting numerous samples for microbial analyses, Peter was excited to see Lake Victoria and the Nile – and narrowly avoided slipping in to the latter at Intinde Falls just because he wanted to touch the water. See our Research page for more information about our on-going analyses.
2017
November 3: Peter was invited to present his research on urban stream restorations at a streambank stabilization workshop hosted by the Iowa Storm Water Education Partnership (ISWEP) and Iowa Rivers Revival.
September 21-22: Peter coordinated with other scientists and policy-makers from across the state to host a Safe Drinking Water Symposium at Drake. The symposium included speakers that visited from throughout the United States to present on diverse topics — from public health and source water protection to water treatment practices and emerging contaminants. A post-symposium video available here summarizes many discussions that occurred over the two days.
September 6: Katie VanDooren, a second-year SEEL member, started analyzing our water samples from the lower Raccoon River project today. The analysis is being conducted in partnership with the analytical lab at Des Moines Water Works, where Katie is working with lab technicians to analyze the samples of various solutes, including nitrate, chloride, and phosphate.
August 28: The Fall semester has started at Drake. Peter is teaching Limnology, the ecology of freshwaters, which has an associated lab. He's also teaching Water Resources & Policy, a science-policy integration course.
July 26 – August 3: Peter co-led a nutrient cycling workshop at Aarhus University in Aarhus, Denmark, with his previous post-doc advisor, Tenna Riis. Workshop attendees included graduate students and post-docs from universities throughout Denmark.
July 9-11: A dozen volunteers, many from Central Iowa Paddlers, joined us for three days of intensive sampling on the Raccoon River. Despite the heat, it was a fantastic few days on the water – and we collected an impressive snapshot of water quality across nearly 80 river miles. We couldn't have done it without our citizen science volunteers – Kim, Doug, Doug's nephew, Steve, Dan, Maria, Tom, Chris, John, Robin, Bret, and Don. Thank you!
June 4-8: Peter attended and presented at the annual meeting of the Society for Freshwater Science, held this year in Raleigh, North Carolina.
May 13: We wished our three seniors well today during Drake's commencement. Kaitlin will be teaching English in China, Thomas has a position in conservation, and Megan will be conducting research in Panama. Congratulations!
May 9: The Raccoon River Watershed Association funded a Research & Education grant submitted by Katie, Emily, and Peter. The research will further explore the spatial and temporal dynamics of water quality in the lower Raccoon River watershed.
April 6: Peter was invited the Department of Biology at Central Michigan University (Mount Pleasant, MI) to present and discuss his research. Though the trip was short, he had many invigorating conversations about water-related issues in the Great Lakes and Midwest regions.
March 4: Katie and Peter presented at the Life in the Raccoon River, an annual meeting hosted by the Raccoon River Watershed Association.
February 26-28: Thomas Ehlinger, a senior in the lab, will be presenting a poster at the annual Upper Midwest Stream Restoration Symposium in LaCrosse, WI. His poster is titled "Can land conservation improve ecosystem health of streams in Central Iowa?" Thomas received a fellowship from the Dean's Office to register and travel to the meeting. On Tuesday the 28th, Dr. Levi will give a presentation at the symposium titled "Can we tailor nutrient management river-by-river? An analysis of long-term trends of multiple solutes in multiple watersheds of Milwaukee, WI".
---
2016
November 1: Dr. Levi presented a talk titled "Nitrogen: Streams, Society, and Statewide Impact" at the Iowa Science Center as part of their Cafe Scientifique program that fosters communication between scientists and the community.
October 25: Dr. Levi participated in an all-day workshop hosted by the U.S. Army Corps of Engineers to discuss environmental flows along the Des Moines River. Participants included professionals with expertise in water quality, fisheries, engineering, and hydrology.
October 7: Senior Thomas Ehlinger was awarded a STAR (Student Travel and Research) grant from the Dean's Office to present his research at the annual Upper Midwest Stream Restoration Symposium in LaCrosse, WI (February 2017).
October 5: Dr. Levi moderated a panel on the social, economic, and ecological value of Iowa's freshwater resources during the 8th annual Heartland Global Health Conference. The panelists included Bill Stowe (CEO of Des Moines Water Works), Matt Russell (Sustainable Agriculture Coordinator, Drake Law School), Dr. Michael Haedicke (Drake University), and Dr. Andrew Graham (Grinnell College).
September 30: Angela Bowman, a PhD student at Iowa State, visited Dr. Levi's Hydrology class to discuss her NASA-funded research. She uses satellite data to forecast flood crests – a very timely lecture given the floods in Cedar Rapids earlier in the week!
September 29: Thomas and Katie presented an update on their summer research to members of the Polk County Conservation Board, the agency that oversees Chichaqua Bottoms Greenbelt.
September 5: We welcomed junior Josh Novack to the lab with Labor Day fieldwork in the Raccoon River basin. Dr. Levi, Katie, and Josh collected sediments and water at various sites for an all-day denitrification assay the following day.
August 30: We welcomed Kaitlin Lacek to our lab with a full day in the field, sampling the South, Middle, and North Raccoon River.
August 29: Classes started today at Drake. Dr. Levi is teaching Hydrology (ENSP 150), which includes a lab. In addition, he's teaching a lab titled Principles of Geology (ENSP 042).
August 17: Dr. Levi and several co-authors from Denmark had a paper titled Microbial community diversity and composition varies with habitat characteristics and biofilm function in macrophyte-rich streams published in Oikos.