Peter Levi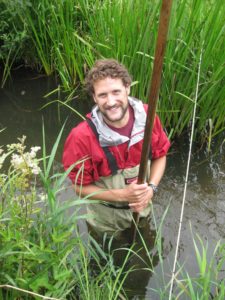 For my current CV, please click here.
Ecology or political science? This was the question I weighed heavily after my sophomore year at Lawrence University. I was very interested in the dynamics of natural ecosystems, but also in environmental law and the political process. By my junior year, I had chosen waders over suits and have since worked in lakes, reservoirs, and streams in Wisconsin, Iowa, Michigan, Ontario, Alaska, Indiana, and Ohio as well as Denmark and Ghana.
My primary research focus is the function and biogeochemistry of stream ecosystems, particularly how human activities may affect these processes, such as land-use change or stream channel restoration.
My passion for scientific research is equally matched by my passion for teaching and sharing science. Between my bachelor's degree and graduate school, I spent three years teaching environmental science to students from kindergarten to college.